Savannah Car Insurance Quotes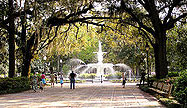 Savannah, Georgia is home to over 220,000 residents who spend a great deal of their time commuting on the roads or freeway system, which is an average of 22 minutes. In addition, the city attracts a number of tourists every year. In order to protect motorists, the state has made it mandatory for car owners to possess a valid car insurance policy at all times. In addition, every policy must meet the state's minimum requirements in order for motorists to enjoy any driving privileges. With medical expenses at an all time high, it is advisable for motorists to protect their finances with proper car insurance coverage. Moreover, being involved in an accident can result in temporary or permanent disabilities leading to loss of income. With adequate insurance, all these expenses can be taken care of.
With thousands of fatalities every year and auto thefts across the state occurring almost every 15 minutes, it is essential for Savannah motorists to procure the maximum coverage in order to protect themselves and their family from financial ruin. The minimum liability requirements for a car insurance policy are $25,000 per person for bodily injury liability up to a total of $50,000, and $25,000 as property damage liability. While this may seem enough to some car owners, the reality is that medical, legal, and repair expenses can far exceed this limit, especially when you consider the escalating costs. It is therefore prudent to opt for additional coverage to avoid any frustration and unmanageable financial obligations in the event of an accident.
Undoubtedly, the higher the coverage you opt for, the less you need to worry about. Although this may increase your monthly insurance bill, there are several ways to cut down on insurance costs. The bottom line is to shop around and compare rates amongst different providers. However, a word of caution – don't compromise on the extent of coverage for the sake of saving a few dollars.
Statistics in Savannah, GA
Auto insurance premiums (average for the state): $808
Fatal car crashes count: 23
Vehicles involved in fatal car crashes: 40
Fatal car crashes caused by drunken drivers: 5
Persons involved in fatal car crashes: 73
Pedestrians involved in fatal car crashes: 5